Have you seen this? A client rushes over to the chair following the previous client and the seat is wet or sticky and open jars and towels or hair is left on the station (depending on the service provided this can happen in any branch of service). Do not allow your client to rush in between services before you can properly reorder and sanitize your area. It is important for the safety of the client and the protection of your business. In serving clients, capes and towels should be laundered regularly. These items mildew quickly. It is ideal to invest in the proper number of capes and towels to meet your client demand. Depending on the services you provide, when possible, use disposable towels and wipes.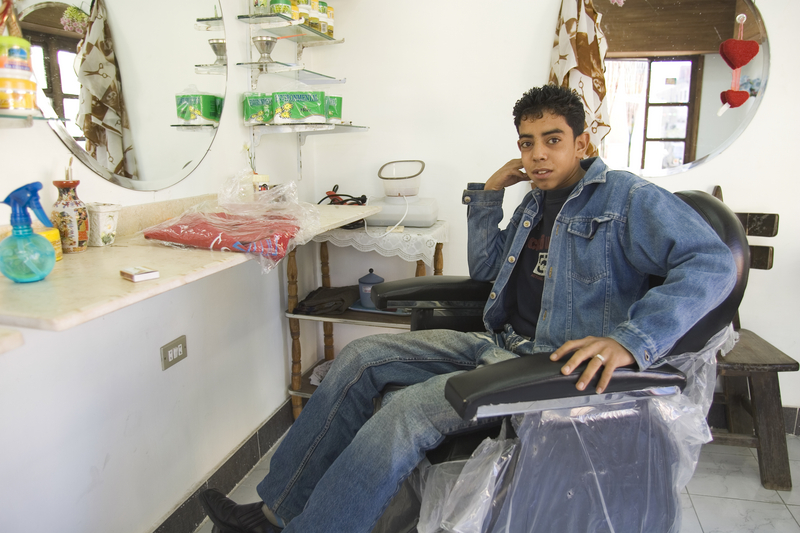 A clean bathroom speaks volumes about a business and how much it cares about its clients and the people who work there. Bathrooms need to be checked throughout the day not just for toilet paper and towel refills. Bathrooms need to be checked for overflows, soiled seats and dirty sinks. And, don't forget about sanitation in the bathroom—please use pumped liquid anti-bacterial soap and single sheet disposal towels. If you re the owner and can afford to, sensor type auto water on/off and soap dispensing is awesome. Auto towel dispensers or hand dryers are a good investment. This aids in the curtailing germ spreading and cross contamination.

How about your attire? Have you ever gone to a salon appointment and were confronted with the technician or operator's cleavage? This is bad service when a client is forced to be in close proximity. Some of you may be guilty of this wardrobe service infraction. When getting dressed for work take the time to think about what you are wearing. Does your appearance say, "Let's party", "going to the park", etc.?

I worked at one location where we were required to wear 'scrubs' as a uniform. This attire works well for all shapes and sizes. Scrubs are comfortable and inexpensive to clean. If we get bleach or hair color on our street clothes they are ruined and expensive to replace. The scrubs, on the other hand, are easily replaceable and affordable enough to own several sets. In large operations, the scrubs help clients differentiate between workers and other clients. Even if you choose not to wear scrubs, uniform vests, aprons and smocks are attractive and look good when worn with black-, white- or khaki-colored pants, capris or skirts. Sorry, my fellow nail technicians no skirts for you—not a good uniform for performing pedicures.

If you don't like traditional colors perhaps a uniform color to match your décor can be worn. What a great way to support branding the salon or spa image. Just remember that if you do wear low cut tops, that whatever uniform you choose it covers you up. Bottom line, please wear appropriate clothing to work. Remember, this is a job not a fashion show or the club. The only style we should employ to entice clients is our superior skills and positive attitude all leading to professional customer service. This should also help in training our clients to dress appropriately, especially for pedicure services.
When your nail service guest arrives in a short skirt or skort, even a dress that rides up when sitting, always have oversized towels on hand to cover her up. Clients receiving hair or facial services should not pose a challenge except maybe at the shampoo bowl.
SIDEBAR: I actually had a client come to her appointment with one of those wrap dresses. It was hard to look up at her for questions during the service. The more she moved the more showed till finally her bra was showing. I couldn't wait to finish her service.
Respect your clients and they will respect you. Some of you may be thinking, "really?!" I'm sure we all have horror stories of the nightmare client: prima donna, the condescending client and the outright client-zilla. Take a moment to reflect on these clients and how you handled them; what you learned; and what measures you took to avoid a certain situation in the future, if possible. I added "if possible" because some situations are not avoidable, but we can learn to separate our feelings from the situation and approach it with professionalism. We are men and women in business. We must look like it, act like it, serve like it and smell like it. This leads us to number three.
Hygiene. Always keep deodorant, soap and female-sanitary items, a change of underwear and uniforms at work. And, for the record, make sure you are following protocol for universal precautions: proper hand washing procedures, wearing gloves and masks when appropriate. These behaviors, when used in concert, will protect you and your clients. This would automatically take us to sanitation and disinfecting. I won't labor this subject now, except to say please periodically review and constantly follow your State Board rules and regulations 120% when it comes to sanitation and disinfecting. You can never go wrong if you do.

Shop Temperature Okay. What is the temperature in your shop? Please don't confuse the seasons. I have had to wear a coat while receiving a nail service. I have also been 100% soaked while receiving a hair service. We are not talking about the shampoo experience. Yes. Even my "Victoria Secrets" were soaked. The dryer created a steam room affect. Everyone could have literally worn a bathing suit to the salon that day. It was cooler outside. So, in the summer please regulate the air conditioning temperature high enough to feel it. This is poor service and speaks volumes about the business. It tells more than you would like to tell. If you work in one of these locations, have a portable fan and heater at your station. Use it appropriately following all the safety guidelines including not creating a trip-hazard with the cord. If you are the owner and cannot afford to run the AC or furnace to a comfortable temperature, in the appropriate season, consider these options:

Advertise more
Start or beef up your retailing
Raise prices
Add to your service menu
Get some business counseling or a loan
Downsize your location

Do what you have to (legally and morally) to keep and serve clients in a comfortable and professional atmosphere at all times in all seasons: whether it is a season of heat, cold or low funds.